Apple holds onto the top spot as the most valuable electronics and appliances brand with a record valuation of US$355 billion
Samsung brand value grows slightly to retain second position
Huawei has big increase in brand value despite pushback from some Western governments
Value for money brands are amongst fastest growing brands in the ranking as they cater to new post-COVID market segments
View the full Brand Finance Electronics & Appliances 50 2022 report here
Apple retains its position as the most valuable electronics brand in the world with a 35% increase in brand value to US$355 billion. Since the onset of the COVID-19 pandemic, electronics brands across the world have faced changing market conditions, and Apple has led innovation in the premium electronics markets in which it operates. With supply chain bottlenecks disrupting global logistics, premium brands are earning strong returns from constrained supply levels.
In particular, Apple has benefited from a pandemic which has caused consumers to invest more in physical objects and digital services – the two complementary arms of the Apple brand. Since the start of the pandemic, Apple's brand value has increased to two-and-a-half times its prior value, and now holds globally unprecedented value.
Every year, Brand Finance puts 5,000 of the biggest brands to the test, and publishes nearly 100 reports, ranking brands across all sectors and countries. The world's top 50 most valuable and strongest electronics brands are included in a dedicated industry ranking – the Brand Finance Electronics and Appliances 50 2022.
In addition to being the strongest electronics and appliances brand, Apple is also the strongest brand in the ranking with a Brand Strength Index (BSI) score of 88.9 out of 100. The brand has been successful in combining innovation and marketing by leveraging its excellence at complementing their premium hardware devices with a premium range of subscription-based digital services.
The tech giant's success historically lay in honing its core brand positioning, but its more recent growth can be attributed to the company's recognition that its brand can be applied effectively to a much broader range of premium services. The iPhone still accounts for around half of the brand's sales. However, this year saw Apple give more attention to its other suite of products with a new generation of iPads, an overhaul to the iMac, and introduction of AirTags. Its range of services, from Apple Pay to Apple TV, has also gone from strength to strength and become of increasing importance to the brand's success.
David Haigh, Chairman & CEO of Brand Finance, commented:
"Apple continues to innovate to meet changing customer demands as it looks towards a post-COVID-19 future. The brand has attained an amazing level of brand loyalty thanks to its quality and reputation in the market. Apple is an iconic player in the electronics industry, the brand is innovating across all its verticals and will be entering the realm of virtual reality and self-driving cars in the next few years."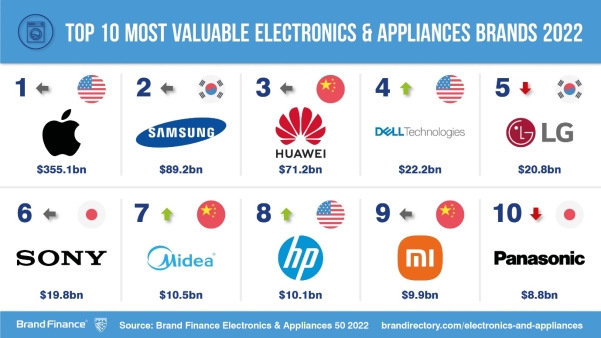 Samsung brand value grows slightly to retain second position
Samsung (brand value up 4.5% to US$89.2 billion) has retained second position as the second most valuable electronics and appliances brand in the world. The South Korean conglomerate often leads global sales charts for smartphones, with Apple leading in periods immediately after Apple launches new products. However, Apple's brand is able to be applied not just to the hardware it manufactures, but also to the entire Apple software ecosystem. As a manufacturer of smart phones which run the Google-dominated Android operating system, Samsung does not have the same benefit. Samsung does maintain operating systems for some of its other products (notably, TVs) but these do not offer the same brand recognition as the Android or iOS mobile phone operating systems. Consequently, Samsung faces a challenge to maintain a strong brand value when its software interface is controlled by other businesses.
Huawei has big increase in brand value despite pushback from some Western[MJBF2] governments
Huawei stands in the third place among other electronics and appliances brands with a brand value of US$71.2 billion after 29% growth year-on-year. Huawei's infrastructure and consumer-facing business was hit hard by sanctions in the UK, US, and allied nations, but it reacted by heavily stepping up investment in both domestic technology companies and research and development activities. The company has seen growth in its wireless telecom business owing to aggressive 5G rollout in China, and strong 5G rollouts in Europe, the Middle East, and Africa too.
Moving forward, the brand is strengthening its software foundations by investing in operating systems such as HarmonyOS and EulerOS because US sanctions have restricted Huawei access to the Android operating system. Like Apple, which also controls its own software for its own hardware, Huawei may have an opportunity to exert greater brand control by more completely controlling the consumer experience. This comes at the expense of access to the Google/Android ecosystem but might offer an opportunity for brand differentiation in time.
Value for money consumer brands are amongst fastest growing brands in the ranking as they cater to new post-COVID market segments Value for money consumer brands ASUS (brand value up 75% to US$2.1 billion) OnePlus (brand value up 92% to US$1.8 billion) and TCL-CSOT (brand value up 81% to US$1.3 billion) rank among the fastest growing electronics brands. By increasing production and innovation over the pandemic these brands have been rewarded with strong brand value. Although these brands faced the chip shortage and global supply chain disruption over the past year, they have been able to earn premium prices in a supply-constrained market